History seems to move quietly in the background of Guillermo del Toro's ("Pan's Labyrinth", "Pacific Rim") "The Shape of Water," a film that pays homage to a classic era where cinema was an escape from the struggles and stresses of reality.
The film centers around the love story between Elisa (Sally Hawkins, "Blue Jasmine"), a mute custodial staff member at a government research lab in 1960s Baltimore, and the Amphibian Man, who is housed in the facility. The man has been caught by a perplexingly odd and perverse Richard Strickland (Michael Shannon, "Midnight Special") in South America, and is now studied in an attempt to gain an edge on the Soviets. While historical context — consumerism, the Cold War, racial tensions — very much influences the storyline, "The Shape of Water" focuses on love between two unique characters.
Presented in a desaturated green and with fantastical production design, the film feels like it takes place in an enhanced reality similar to Del Toro's previous films, such as "Hellboy." Elisa works the night shift and has a routined life, and, given her muteness, has her daily life narrated by her two best friends: Zelda (Octavia Spencer, "Hidden Figures"), a colleague who talks to Elisa about the stresses of the job and her own absent-minded husband; and Giles (Richard Jenkins, "Step Brothers"), a neighbor struggling to keep work in print advertising, as he makes handmade ads in an increasingly photography-driven age.
Del Toro succeeds in crafting a strong film, with a tactful script, rich characters, beautiful sets and a tender love story. But where the film goes above and beyond is in subtle references to struggles of society and humankind — both past and present — through romance.
Throughout the film, Del Toro satires the era with self-help books and the "four out of every five successful men drive a Cadillac" type of suburban consumerism. But he also showcases more serious subjects in segregated countertops, espionage, and post World War II peacetime malaise.
These items in the film, at a first glance, can feel like an aside to the main plot. Love trumps all, right? The journey of a supernatural creature and a mute woman rise above all of these societal complexities. However this story, or any human story, is very much a product of underlying realities. The same human emotions, strengths and flaws that dictate history play out in small-scale connections and interactions among individuals.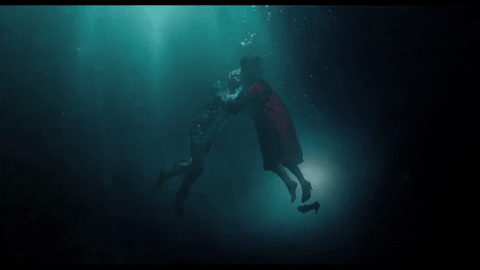 There is a scene where Giles is watching a saddening news report on Civil Rights demonstrations, and, exclaiming that it is too upsetting, quickly switches the channel to one of his favorite classic films. He is using cinema as an escape. The viewer is performing the very same function, watching "The Shape of Water" (or any film), potentially, as an escape. It all feels very dreamlike: beautiful sets, classic music, supernatural creatures. But the animus that leads Michael Shannon's character to fear, rather than admire the Amphibian Man is the same human flaw that plays out in society's greater struggles to accept differences. Elisa's character represents our better nature — good vs. evil in a classic sense.
We can never escape ourselves, but we can always be better. Del Toro's subtle expression of this thesis makes "The Shape of Water" — already a fun, well-crafted and a moving love story — a societally introspective film.
The Shape of Water received seven Golden Globes nominations, including: Best Picture, Best Director, Best Actress, Best Supporting Actor, Best Supporting Actress, Best Original Screenplay and Best Original Score.